THE SILVERMAN
<< back to the Combined Discography
---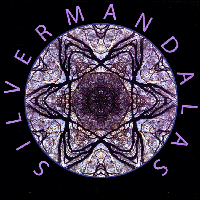 Release date and tracklist
October 27, 1998
US CD Soleilmoon SOL 88
16 September 2012
NL Remastered MP3 self-released on Bandcamp
Silvermandala 1
Silvermandala 2
Silvermandala 3 – [MP3]
Silvermandala 4
Silvermandala 5
Silvermandala 6 – [MP3]
Silvermandala 7
---
Credits
Photography By – Klaus Totzler
---
Notes
Recorded between 1996-1998.
Edition of 1000
The Bandcamp version combines Silvermandalas 5 & 6 into one track
From Bandcamp:
"Silvermandalas" was the second of The Silverman's solo albums and simply cannot be categorised. It isn't ambient or even drone music in the accepted sense as there are numerous sonic events occurring throughout the entire sumptuous voyage. It's a great place to begin if you haven't heard any of Silverman's solo albums before- I promise you, you'll dive in deeper. While the original album has been remastered here, it's more to do with the possibilities afforded by today's technology rather than any failings of the original master. Quite simply, it always sounded good…..Cover photography by Klaus Totzler.
---
Press Release
"Silvermandalas" is the new CD from The Silverman, and it's his first solo release for Soleilmoon. As a founding member of the Legendary Pink Dots, The Silverman can already be heard on more than 30 of that group's recordings spanning nearly two decades. He regularly collaborates with Kevin Cey in Teargarden, and with Christoph Heeman and Jim O'Rourke in Mimir. Born and raised in London as Philip Knight, he now resides in The Netherlands.
Using a combination of analog and digital keyboard systems The Silverman has created the seven musical mandalas that make up the new album. His debut CD "Dream Cell" was released in 1995 on the Dots' own Terminal Kaleidoscope label. In the year following The Silverman gave live solo performances throughout Europe, warming up audiences for solo shows by his long time Dots collaborator Edward Ka-Spel. American audiences witnessed his solo improvisational performances in 1997 opening for the Legendary Pink Dots on their last tour.
"Silvermandalas develops further the musical directions already in evidence on his first CD. The cover art was designed by The Silverman, and features compelling mandala images of tree branches.
---
Reviews
When not making up a sizeable chunk of the musical bedrock of The Legendary Pink Dots, and surprisingly unprolific in his solo work by the standards of that group, Phil Knight has been known to settle down to produce some stunningly hypnotic recordings in his time.
Following on from the hypnagogic Dreamcell of the early Nineties, Silvermandalas opens with an untitled track which shows a fascination for the watery sound of an electric organ in the midst of a rising and fading wash of distended drums and restrained electronic noise. As is to be expected, there's a cyclical feel to the album, as loops are rearranged, entwined and revolved into complex patterns which frequently end at a strangely distant, but conected, point from their origins. Sharing the same headspace as both Rolf Dammers and Holger Czukay's Canaxis and the more reflective work of Coil (particularly "Is Suicide A Solution"), the second track is a concoction of drifting, half-human voice loops and snatched telephone conversation, making a particularly disorienting piece of atmospheric ellipsis.
The album is replete with the hypnotic possibilities of varied repetition, taking minimal structures and turning them into elongated variations on themselves – the simple tones of mysteriously-derived samples and synthesizer sounds assume a crystalline avian quality as a subtle bass presence makes itself known; an attenuated tribal rhythm coalesces into the virtual sounds of impossible electronic near-wildlife; a drone meets another as a reeded instrument sings to itself before arrival of a phasing pulse-beat – there's an underlying feeling of the ritually paranormal about Silvermandalas, thoguh never so gauche as to be New Age, and too unsettling to be entirely Ambient.
By composing deeply mediatative music which draws inward before exploring outwards into the realms of minimal psychedelic trance Electronica, Knight has made a record which justifies its title – when the end finally comes in a whirl of violins, rolling bleeps and gentle propulsive rhythm, it's the culmination of a transfixing listed, like watching ripples from a skimmed pebble which has disturbed the distended reflections of a smooth sheet of water. Zen-like in its semi-transparency, Silvermandalas is the ideal accompaniment to the half-sleeping state which, in some theories of parapsychology, is when the incubi and succubi of the subconscious can manifest themselves in modern minds as extraterrestrials. With the help of this record, they can have a far better soundtrack than the usual spooky-orchestral clichés they've suffered from over the years… – FREQ Music E-Zine
***
Silvermandalas, the newest solo effort from the legendary keyboardist for the Legendary Pink Dots, while not what I expected it to be, is a pleasant surprise nonetheless. The cover of the CD, which depicts a photo of trees dismantled and reassembled through the lens of a kaleidescope, is an interesting compliment to the album, a musical melange of styles.
Seven pieces (or "mandalas") recorded between 1996 and 1998 comprise Silvermandalas, each one radically different from the other. The first mandala begins with buzzing insect-like sounds along with low, bassy thunderings. About halfway through the track, a snare is added, providing an unexpected rhythmic element to what at first listen might strike a listener as just another ambient drone piece. The third mandala features more of this synthetic insect sound, this time complimented by prettier, mellower, perhaps even melancholy tones; a minimal, somber track that includes other "natural" sounds such as bird twitterings and leaf rustlings.
Other mandalas range further in elements from filgrees of keyboard swirls to Eastern-influenced flutes and rhythms to lower, bass-driven oscillations. The biggest surprise (particularly to fans of the Pink Dots) is without a doubt the seventh mandala. Fabulous high-tech beats, nearly dancy, dominate this track which is strongly suggestive of the Pink Dots) is without a doubt the seventh mandala. Fabulous high-tech beats, nearly dancy, dominate this track which is strongly suggestive of IDM bands such as Autechre, and like Silvermandalas itself, is in general entirely too short, leaving the listener longing for more. – Jessica Tibbits, Brainwashed
***
Having problems sleeping? Now, I don't mean this record will bore-by any means. You will never sleep the same again after putting your headphones on and allowing this album to work on you. The Silverman, better known as Philip Knight, the keyboardist/abstract-noise genius of 'The Legendary Pink Dots' is well trained in the art of organizing layers of sound, sound he creates and is very familiar with.
He has discovered and tapped into another dimension of sound; a sound that our minds and ears can be drawn together with, connected if you will. Often we listen to a song and its easily obsereved and we're on to the next-we're able to tell if we love the song or if it's bad or if it's simply alright. This album triggers a different perspective for us-a deeper viewpoint. I could not judge this record or pick apart a 'song'-as you may see. there are no song titles-there's a reason…you'll have to figure out what that reason is for yourself.
I challenge you to venture into the world of the 'Silvermandalas' go where very few have traveled. He has a previous record called the 'Dream Cell' that is out-of-print, but still able to be found through various computer searches and used record stores. It's the album that introduced me to this very special world. Live, he is amazing. If you have the opprotunity to see him and/or The Dots (LPD) don't miss them-it will be an experience you will never forget-you won't be sorry. -HappyTheMan