EDWARD KA-SPEL
<< back to the Combined Discography
---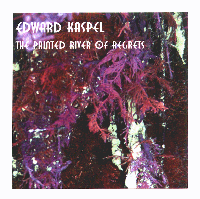 Release date and tracklist
24 Apr 2008
NL CD-R Trademark Of Quantity
2009
LP Beta-lactam Ring Records  mt169
30 March 2014
MP3 self-released on Bandcamp
PRR 1
PRR 2
PRR 3
PRR 4
---
Credits
Artwork, Design, Layout by Chris McBeth; Mastered by Randall Frazier
---
Notes
CD-r: "instrumental pieces to form a soundtrack for an imaginary movie which the dots vocalist had been working on over the last year"
Limited edition of 399, numbered, signed.
Packaged in a handmade card cover.
Durations of the respective parts are not listed on the cover.
***
LP: Limited Edition of 500. Recorded at home in 2008.
Copies pre-ordered from BlRR came with a signed insert, which was a small black piece of paper and said paper was autographed by EK.
***
Notes from Bandcamp: A suite of instrumental pieces by EK dating back to 2008. Originally intended for release only as a small edition cdr, it was reissued on vinyl by Beta-Lactam Ring Records with glorious artwork by label boss Chris McBeth. This cover now adorns vinyl AND cdr formats. –E. K-S.