THE SILVERMAN
<< back to the Combined Discography
---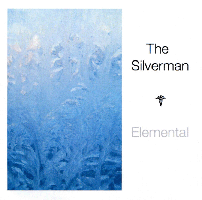 Release date and tracklist
2010
CD-r Trademark of Quantity
2012
MP3 self-released on Bandcamp
Elemental
---
Credits
The Silverman- all instruments
---
Notes
Self-released CDR from 2010 in home-made cover..
This plain white CDr came packaged in a white sleeve with laser printed stickers on front and back. A paper insert contained the following text:
"The Silverman
Elemental
Dust slowly dances in the light that streams
through the cracks of a carefully built reality.
Where the light meets shadow it seems
potent…elemental even."
***
A 48 minute epic voyage into a deep red ocean that just goes down and down …..Don't call it ambient , this is the stuff of lucid dreams where fleeting memories of past lives present themselves and tease you into chasing them through forbidden territories. Don't be fooled by the blue cover- it's red down there.