EDWARD KA-SPEL & PHILIPPE PETIT
<< back to the Combined Discography
---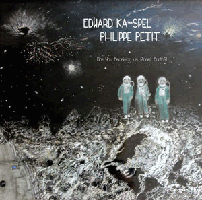 Release date and tracklist
April 19, 2014
IT LP  Rustblade  RBL044LP
IT CD  Rustblade  RBL044BOX
2014
NL MP3 Self-released on Bandcamp
Subterranean, Homesick
Giant Steps Post
Needles IV
Where Does The Sound Go
Bad Night (bonus track on box cd)
---
Credits
Edward Ka-Spel
Philippe Petit
Exclusive releases for Record Store Day. Limited Colored Vinyl 299 copies
Limited Box  Edition 299 Copies contains Cd + Postard + Gadget
---
Press Release
"Are You Receiving us, Planet Earth?!" is the first effort composed by Edward Ka-Spel & Philippe Petit, both playing various instruments and electronics. Their exchanges ran over the course of two years trying to create something which would meet their usual aesthetics and at the same time bering them to newer territories.
The seeds were sown on exotic stringed instruments by Philippe on sultry nights in Marseilles. Long wandering instrumentals, sometimes angular, sometimes mysterious, always operating in their own peculiar universe.
Through the medium of cyberspace, these landscapes were delivered to Edward Ka-spel in London, who detected hit potential, at least with the inhabitants of the planet Glurg, and duly added vocals plus other underlying, utterly disturbing elements.
There was a logic forming in this voyage, although by the time EK delivered his interpretation back to PP, the dark matter was literally dripping from the project. Philippe added the final touches, leaving the inevitable question…
Planet Earth- are you receiving us?  It's been a while…..Planet Earth, are you, in fact, STILL THERE??? –Rustblade