DECIDUOUS FLUX
<< back to the Combined Discography
---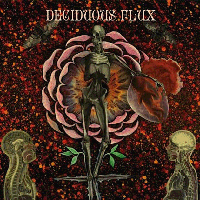 Release date and tracklist
August 21, 2013
US CD Beta-lactam Ring Records  DF
NL MP3 self-released on Bandcamp
Crooked Lines
Conjuring the Shades
Revenant Stars
---
Credits
JP…samples,dischordian howlings,glitches and synthesis
WY-samples and synthesis
EK- voice,samples,production
---
Notes
Features Edward Ka-Spel, Jesse Peper and Wesley Young. Ed. of 500 copies.
---
Press Release
Deciduous Flux began channeling energies through recordings early 2011 in Denver Colorado. It is the ongoing creative collaboration between Wesleyoung and Jesse Peper. Wesleyoung, a visual artist and also the founder and proprietor of a collective abstract underground sound project known as Behavior. Jesse Peper is primarily a painter, but has also performed and/or recorded with Not Breathing, Waldteufel, Legerdemain and Icedagaz. Deciduous
Flux was originally conceived a few years earlier than this as a visual collaboration between both artists which resulted in a series of large paintings. During the Development of these artworks many conversations often led to the discussion on the medium of sound, as both of us have always kept a love for the craft of sound. At this time we have been recording a year and a half resulting in 12 full recording sessions. Much of this material is in production and will be released to the public within the coming months.
Our recording process is quite different than the usual conventional approaches on what music is "seen as" or "supposed to be" to the world. On one hand we are obsessed on the opiates of oblivion and we are recording constantly for no outcome other than for our own meditation purposes, for achieving various states and documenting them through the recording process. This, within itself, is an intoxicating pre-procedural agent for what follows!
Largely our aim is to capture these otherworldly trans-dimensional expressions or bleed-throughs with the proper elements to perform the divine inductions, invocations and evocations etc, through the methods of our ritual. The tradition we naturally adopt is more akin to that of the shaman than it is to modern modalities of thinking. We recognize the spirit-forms or energies around us to guide us within appropriate directions according to our will and desire.
On another hand, at times we see our process fall into a method which we have described as automatic recordings, similar to some degree in the approach of automatic drawings only using sounds rather than images as the medium with which to explore, amass and create our impressions on the hanging space of time.
Within the Deciduous Flux is like a painting with sounds. A rich palette of sound to create and stimulate visions both from externally and internally. Each byproduct of the recordings presents an invocation of elements which create metaphysical vortexes to other dimensions with which the listener can also gain access to if the desire to do so exists. –BLRR