EDWARD KA-SPEL, THE SILVERMAN AND NICOLETTA STEPHANZ
<< back to the Combined Discography
---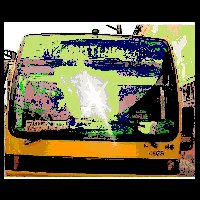 Release date and tracklist
April 3, 2014
NL MP3 self-released on Bandcamp
Haarlem 1
Haarlem 2
---
Credits
Edward Ka-Spel- keys
The Silverman- keys
Nicoletta Stephanz- theramin
Ray Steeg- engineering
---
Notes
HAARLEM March 2003
A nice town in the west of Holland and the strangest LPD related show in nearly 30 years of performing.
The venue was LITERALLY a toilet, well…..it had been once.
Constructed from glass this place wasn't technically a building, it was a transparent cubicle on a traffic island.
Performers on the night were EK, The Silverman and Nicoletta Stephanz. As the trio played, the transparent walls often gave the impression that a bus was about to plough into the stage – thankfully those big yellow monsters always managed to swerve away at the last moment.
It was a small place. Only 25 tickets were made available – all in advance.
The sound equipment was from the Stone Age, yet after quite some sound enhancement this recording sounds inappropriately decent.
Most of the set was improvised too, so expect plenty of surprises.
Thanks to Nicoletta who captured the performance, Ray Steeg who engineered and Peter Bruyn who organised this unforgettable event.  -Edward Ka-Spel