EDWARD KA-SPEL / THE SILVERMAN (FEATURING MICHEL LEROY AND McABDULLAH)
<< back to the Combined Discography
---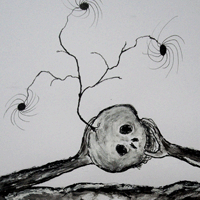 Release date and tracklist
July 11, 2015
CL Cassette / MP3 self-released on Templo Sagital's Bandcamp page
November 18, 2016
DVD-r self-released on Templo Sagital's Bandcamp page
Introduction/Black Widow's Kiss/The Warden/Prisoners Of War/Flesh Parade/The Third Secret/Suicide Pact/Lilith's Daughter
Faded Photograph/Cubic Caesar/Hellsville/Fifteen Flies In The Marmalade/Circle The Sun And You Become One
---
Credits
Edward Ka-Spel- voice, synths and tapes
The Silverman- synths
Michel Leroy- acoustic guitar (on Suicide Pact & Hellsville)
McAbdullah- Sax (on Hellsville)
Art: Jean-Henri Maisonneuve (jhmaisonneuve.jimdo.com)
Mix: Michel Leroy
Master: Michel Leroy
---
Notes
Recorded live in Santiago de Chile on November 2008. The name of the album, is a reference to a typical Chilean drink, which the Pink Dots share with Chilean friends on their South American adventure years ago… but also terremoto means earthquake, something that happens "too much" in Chile, and is a near death experience that mark all of us here.
– Michel Leroy
Handmade art tape edition- All copies have unique art. This is done with big love and dedication. High bass recycled tapes.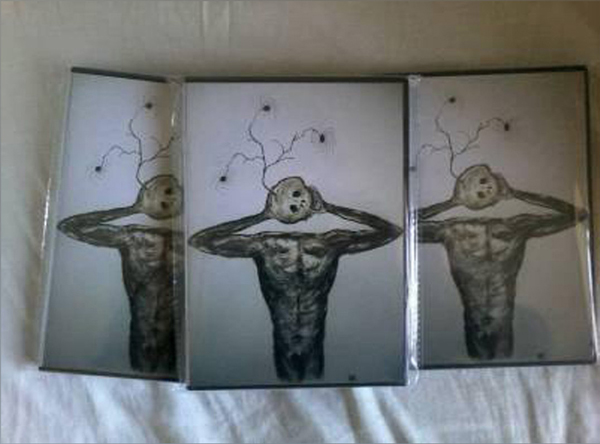 DVD-R edition of Edward Ka-Spel & The Silverman's show with special guests in Santiago , Chile in 2008 . A hyper limited edition of just 50 lovingly created by Michel from the magnificent Un Festin Sagital. A handful of copies also available from the label at templosagital.bandcamp.com/merch/terremoto-live-in-chile
Great and professional cinematography and sound.
Directed by Gonzalo Stuardo.