TWILIGHT CIRCUS DUB SOUND SYSTEM
<< back to the Combined Discography
---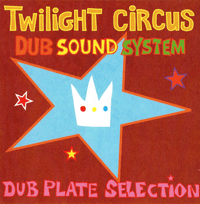 Release date and tracklist
02 May 1998
NL CD M Records CD-160
NL LP M Records M 160
NL MP3 on Bandcamp
The Ride
New Steppers
Filter
Trouble Dub Plate
Beneath the Valley of the Ultra Dub
808 Dub Plate
Rocking Dub
Lowell and Nine (Shaka Dub Plate)
Sir Dub Plate
Indian (Space Dub Plate)
Bonus Tracks (not on LP)
Filter 13 (Party Mix)
Lowell and Nine (Dub Plate)
Filet 13 (Wailers Tribute Mix)
Bong Loop (Paranoia Mix)
---
Credits 
Produced by Ryan Moore
All tracks performed & mixed by Ryan Moore
All tracks recorded and mixed at The Miller Block – Vancouver, Canada and Studio Klaverland – The Netherlands.
Additional engineering – Darryl Neudorf
---
Reviews 
Twilight Circus Dub Sound System come again with another modern take on classic Jamaican dub. They take the liquid feel of dub instruments to the next level, with atmospheric reverberations, live sitars and flutes as well as the traditional configurations of drum, bass and keyboards. New dub recordings often make use of the sound aesthetics that were pioneered in the '70s and early '80s to create sinister Illbient soundscapes but rarely does an artist relatively new to the form recapture the uplifting yet haunted feel of early dub as well as Twilight does. "Sir Dub Plate" is particularly adept at creating a positive vibe with wonderfully juicy reverb- drenched organs while "Beneath The valley Of The Dub" is a more melancholic affair with a wistful sitar dwelling beneath the echos of bass and drums. This satisfying DIY release may be somewhat hard to come by as it was released by the mastermind behind the music. Ryan Moore (formerly of the Legendary Pink Dots), himself, but is well worth searching for. All in all, this is a wonderfully spaced-out modern, dub odyssey into higher levels of eerie relaxation.
Daniel Chamberlin, URB
***
A dub plate is a unique acetate platter created specifically for a DJ sound system, but with the elementally deep bass generated by Twilight Circus' Ryan Moore (a Canadian expatriate living in the Netherlands, who essentially is Twilight Circus), "tectonic plates" seems a more appropriate term. The bottomless bass and rubbery tempo of this music conjure images of massive primordial forces, the menace of a slow-moving lava flow. These dub plates originate from twilight Circus' dub performances, representing both new material and unreleased remixes of older tracks. They navigate the intersecting sound-spaces of reggae-patterned dub, jungle and ambient electronica, cavorting through cavernous reverb, otherworldly electronic effects and the ocasional deconstructed melodic fragment. Delightfully, this is no gratuitous electronica samplefest – in fact it's not a samplefest at all – because Moore avoids the usual drum boxes and electronic toys in favor of fat bass lines and real drums (supplied on three plates by no less than Sly Dunbar). So there's blood and sweat amongst the circuitry.