TWILIGHT CIRCUS DUB SOUND SYSTEM
<< back to the Combined Discography
---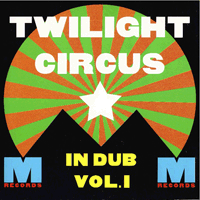 Release date and tracklist
05 April 1995
NL/US CD M Records 001/M-001
NL LP M Records
NL MP3 on Bandcamp
Dub Frequency
Rocking Dub
Chirping Dub
Sir Dub
Big Dub
Dub Statikk
Cracking Dub
Speaking Dub
Valley of the Dub
---
Credits
Ryan Moore: Music, mixing & production
---
Reviews
On his debut as a solo artist, former Legendary Pink Dot Ryan Moore telegraphed his intentions clearly: having studied the art form since his teens, he was going to single-handedly recreate the sound and feel of classic 1970s dub reggae. Before he could do so, he had to master not only numerous instruments, but also the studio itself; dub is, above all, a producer's art, and the techniques involved in turning instrumental tracks into dub require a fair level of virtuosity. The sound he achieves on his first album is derivative, of course, but in a good way; on "Dub Frequency" he weaves a dark, minimalist groove above a vintage one-drop rhythm, while "Rocking Dub" marches along to an Augustus Pablo-influenced rockers beat. "Sir Dub" is a triumph of drum sound, on which Moore combines an enormous acoustic with judicious slapback echo to create a multilayered effect. But best of all are his basslines, most of which rival Bill Laswell's for pure melodic sweetness. His later albums would get more adventurous, but for fans of the old school, this one will be a delight.
by Rick Anderson / All Music.com
***
Bassist Ryan Moore grew up playing in reggae groups in Toronto and Vancouver, while at the same time pursuing an interest in improvising and the avante garde. He now lives in Holland, where he works with The Legendary Pink Dots. Twilight Circus is a homage to the 70's JA sound, but, of course, sounds nothing like the music of 20 years ago. However, like someone achieving proficiency in a second language, the style of expression has a charm of its own. It also gains from the fact that Moore can play the bass. In fact he plays nearly everything else on the record, which has some of the off-centre lo-fi sound of 70's UK dub. Limited resources are exploited. The retro aesthetic governs the presentation too: it's on vinyl only, packaged in cheap cardboard with paper labels stuck fore and aft. Sure sounds a mindless idea, but it foregrounds the intimidating burden of authencity that dub carries, and the wit and proficiency of the execution make it an oddly entertaining record.
The Wire