TWILIGHT CIRCUS DUB SOUND SYSTEM
<< back to the Combined Discography
---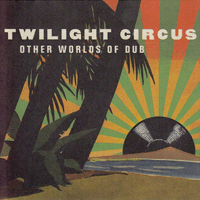 Release date and tracklist
02 May 1996
NL CD M Records CD-127
NL MP3 on Bandcamp
Salma
Arabix
Hose
Carlton
Felafel
Woody
Maffe
Indian
Voice
---
Credits
Mixed & produced by – Ryan Moore
All Instruments – Ryan Moore
Artwork – Red Bol
Engineer [Drums Recording] – Darryl Neudorf
Silverman – synth flute track 4
Christian Thorvaldson & Ziggy Sigmund – guitar loop track 3
---
Notes
Drums recorded Dec 94-Jan 95 at The Miller Block, Vancouver, Canada.
Overdubs took place during Spring & Summer 95 at Chez Dots and Studio Klaverland, The Netherlands.
Mixed at Studio Dots, Klaverland, Summer 95.
---
Review
Jamaican riddims and snakelike Arabic melodies, performed by an Anglo ex-pat residing in the Netherlands – now that's world beat. Ryan Moore's Other Worlds of Dub opens with a hollow clatter of rock-steady drums and a woozy lick that sounds like a trombone. It soon becomes apparent that the brass is actually a manipulated human voice wailing on a centries-old, open-throated theme. The remarkable fluidity of this transition makes a statement or two about the durability and timelessness of head music, of which Other Worlds is a stellar example. According to Moore's spare liner notes, his drums were recorded during a two month period in Vancouver, while all overdubs were added during a second recording session in the Netherlands. Like the best dubwise records, these echoey drums provide rhythm enough to carry the whole project; on top, Moore's sythetic blips, gurgles and washes add color like sunbursts on the back of eyelids. Traditional reggae instruments and ideas share space as well: 'Indian' for instance, features a borrowed bass riff from Bob Marley's 'Night Shift' off Rastaman Vibration. Not a bad place to look for ispiration.
James Sullivan – OPTION MAG