BEANSPROUTS
<< back to the Combined Discography
---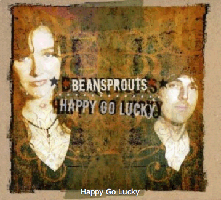 Release date and tracklist
June 2008
NL CD self-released (not on label)
True
Shine
Desperate Man
Icecream Parlour
Under the Weather
Happy Go Lucky
Shili Bean Baby
Ghosts
Bittersweet
Close
Laundromat Blues
Nature's Call
---
Credits
Martijn de Kleer- Vocals, Acoustic Guitar, Electric Guitar, Slide Guitar, Mandolin, Banjo, Fiddle, Harmonica
Liesbeth Kemerlings- Vocals, Acoustic Guitar
Roel Spanjers- Accordion (1-11)
Harmen de Bresser- Bass
Gabriel Peeters- Producer, Mixed By, Mastered By, Drums, Electric Piano [Wurlitzer Piano], Backing Vocals [Harmony Vocals], Tambourine
Gurf Morlix- Steel guitar (pedal)
---
Review
Dutch Singer-songwriter couple Martijn de Kleer and Liesbeth Kemerlings form the basis of the band Beansprouts. They recorded their debut album titled Happy go lucky with a full back-up band, and they sure did pick the right people. As soon as you hear the fiddle and five string banjo in the first song you can tell that these guys paid some dues to get that authentic feel to their sound, but there's a lot more to this band than just banjo's and fiddles.
"a surprisingly strong and versatile debut. They have an incredibly effective pen at their disposal for writing memorable pop songs; therefore this is a record that doesn't seem to leave your CD player.
With this debut Beansprouts manifest themselves as the new standard barriers of Dutch rootsmusic. A very big promise for the future." Erwin zijleman -Velvet Music
All the songs on this CD are their own material, but somehow they sound as if they've been around forever. The lyrics find a perfect balance between straight from the heart honesty and dry humor which makes them intriguingly personal but never hard to digest. The switching between two vocalists comes as a pleasant surprise, and when they go from a folky sound to electric with drums it all sounds cool and natural. And hey, Gurf Morlix (Lucinda Williams, Mary Gauthier) plays some damn sweet Pedal steel on a few songs.
Call it electric acoustic rootsmusic with a Dutch American flavor, 
this is one of those records that you play, a lot..
"with Happy go lucky beansprouts instantly belong to the absolute top of the European Rootsmusic scene, and they achieve the impossible by putting out a perfect debut album."
Benny Metten – Ctr.Alt.Country