MARTIJN DE KLEER
<< back to the Combined Discography
---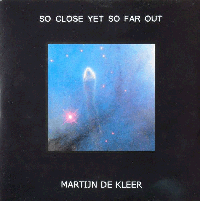 Release date and tracklist
2002
US 2xLP Beta-lactam Ring Records mt055a
2003
CD Beta-lactam Ring Records mt055b
side A
The Time Has Come
Delayed Chemistry
side B
New
Jet Lag
What Happened to a Young Man in a Place Where He Turned to Water
side C
Once Upon a Guitar
You Are…
side D
The Apple Crumble Trail
---
Credits
Martijn de Kleer- Guitar, Bass, Synthesizer, Organ, Drums, Sounds [Additional], Vocals, Lyrics, Producer
Ryan Moore- Bass (A2, B1, B3, C2)
Evan St. Syr- Bass, Harmony Vocals (A1)
Mark Edelman- Drums (A1)
cEvin Key- Drums (A2, B1, B3, C2)
Raymond Steeg- Engineer, Edited By, Mastered By, Producer, Other (Patience)
Ernst Bunders- Engineer, producer (A1)
White Mountain Apache- Lyrics (B2)
Phil Knight– Synthesizer (synth loop) (A2)
---
Notes
LP: Pressed on 220gram audiophile vinyl, limited to 500 copies, first 100 copies included a signed insert.
This music was recorded on different occasions and several locations somewhere in the nineties; somehow it all came together.
Warning: prolonged listening may cause a certain level of intoxication.
The pictures on the sleeve were taken by the Hubble space telescope showing the nebulae from which stars are born.