MARTIJN DE KLEER
<< back to the Combined Discography
---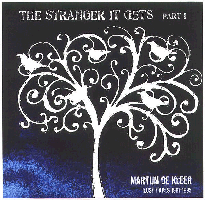 Release date and tracklist
October 16 2008
NL CDr self released (not on label)
Seriously
Cornfield
Anything You Want Me to Be
Let Go
Worlds Apart
Northern Light
Confrontation
Careful Now
Nostalgia
Flashback
---
Credits 
Martijn de Kleer
---
Notes 
This CDr release is packaged in a thick cardstock envelope with the artwork printed on adhesive stickers on the front and back. The artwork on the CDr itself is similarly printed on an adhesive label. The following text is included on a separate insert included in the envelope:
"In September 2008 I decided to dig up my first home recordings. They were made on a 4 track cassette recorder in a very small backroom, my hideout from a wicked world. I sang lead and harmony vocals and played the following musical instruments: Acoustic and Electric Guitar, Bass, Mandolin, Drums, Elka Organ, Piano, Korg MS10 synthesizer, Harmonica. The tape hiss and sonic weirdness you might notice is entirely my responsibility and I must admit that on some of the songs it's quite spectacular. Yet, I think that these recordings have stood the test of time bravely. Enjoy…
I want to thank: Gabriel for mastering, Edward for making the suggestion, Liesbeth for sleeve design and unconditional love, you listener for your ears."
Some copies of Part I are missing the paper insert.