THE LEGENDARY PINK DOTS
<< back to the Combined Discography
---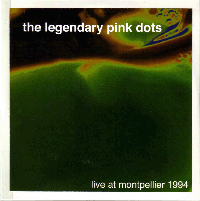 Release date and tracklist
2005
CDR Trademark of Quantity
November 30, 2013
MP3  self released on Bandcamp
Introduction/A Crack in Menlancholy Time/On Another Shore
Siren/Vigil-Anti/Love Puppets/Love in a Plain Brown Envelope
Lillith/Dance of the China Dolls/Crumbs on the Carpet
15 Flies in the Marmalade/9 Shades to the Circle/Premonition 13
Belladonna/Aarzhklahh Olgevezh/Pruumptje Kurss/City of Needles
---
Credits
EK
Ryan Moore
Martijn De Kleer
Niels van Hoorn
The Silverman
Raymond Steeg.
---
Notes
Double cdr edition on the Dots' own TOQ label lovingly home-made with card cover and insert.
May 27, 1994 at The Rockstore in the beautiful town of Montpellier. A small crowd but a very intense atmosphere…and it was Ryan's birthday!
This double cdr dates back a few years but is making it's online debut in a slightly enhanced capacity.  A show that captures the spirit of that wild spacey phase of The Pink Dots.