THE LEGENDARY PINK DOTS
<< back to the Combined Discography
---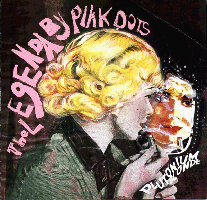 Release date and tracklist
7 October 2008
CD  RUS8305
22 November 2013
MP3 Redux available on Bandcamp
A World With No Mirrors (demo)*
My First Zonee (demo)*
* MP3-only bonus tracks (released on Bandcamp 22 November 2013):
---
Credits
Edward Ka-Spel – voice, keys, devices
The Silverman – keys, devices
Niels Van Hoorn – saxophones, flute, bass flute and bass clarinet
Martijn De Kleer – acoustic and electric guitars, fuzz bass, banjo and exotic percussion
Raymond Steeg – mixing and engineering
Cover art – original image from Panorama, customized by Astrid Mutsaers and Anna
---
Notes
2008. A year in the making, Plutonium Blonde was especially ambitious. Songs would be written, recorded, road-tested, then re-recorded.
Two songs failed to make the deadline ("Uncomplicated" and "Bad Mood") and were completed a year after the album's release.
Still it felt like a landmark, but it was also the album which finished an era for The Dots as Martijn and Niels left The Dots before the band entered the studio again.
---
Press Release
The Legendary Pink Dots have created their most commercially appealing album to date with Plutonium Blonde, the follow up to 2006's Your Children Placate You From Premature Graves. Frontman Edward Ka-Spel and his crew capture the listener's imagination with lush and haunting songs. "A World with No Mirrors" is as beautiful and emotionally charged as any Belle & Sebastian song, while "My First Zonee" comments upon our narcissistic love affair with modern technology. "An Arm & A Leg" reminds us of the fragile state of our mental and physical health. Plutonium Blonde is more than just an album; it's an aural and visual treat, a collection of stories that could have very well been written by a modern day Brothers Grimm.  — ROIR
---
Reviews
The Dots are as focused and as diverse a group as I can name. For over 25 years they've been releasing record after record of bizarre and colorful music. Even with such a voluminous catalog behind them, their output remains completely unique and peerless. Plutonium Blonde is a trance-like, somewhat awkward record that meshes their eccentric pop sensibilities with dark, aggressive machine music.
From the start it is obvious that this record is a move away from the jam-band tendencies that have popped up in the Dots' music over the past couple of records. The album opener, "Torch Song," is an aggressive and concise electronic nightmare that thrives on synthesized beats and cascades of blurry keyboard effects. There are guitars on this record, but they take a back seat to the electronic errata conjured up by The Silverman and Edward Ka-Spel. The emphasis on computerized music isn't just a stylistic turn for the band, but a natural continuation of the themes that run through Ka-Spel's lyrics. From the '50s era model on the cover, the cracked mirror she's holding, and the truncated image of a mushroom cloud inside of the booklet, to the themes of paranoia, isolation, and distress in the song's words, it is clear that technology and its effect on mankind is a central theme on the record. When the odd guitar or errant flute emerges from the flux of noise, drone, and found sounds that populate the majority of these songs, they bring a good deal of comfort and relief. Whether or not that relief is necessary is something worth considering, however.
Some of the songs on Plutonium Blonde feature an approach to songcraft that fans of the Chemical Playschool series will be happy to hear. Stuttering tape collages, dark synth pads, organic burps, and quiet percussive elements swim by beneath Ka-Spel's narratives on both "An Arm and a Leg" and "Oceans Blue." The intensity and creepiness of the vocals harmonize with the brooding haziness of the instrumentation creating a strong synthesis of abstract, psychedelic sound and conventional song-writing. Both "Torchsong" and "Rainbows Too?" favor a semi-melodic, direct approach to creating atmosphere, but are also the first two songs on the album. Plutonium Blonde thus feels like a slow descent into unfamiliar waters, one that ends up with the crushing woe of "Cubic Caesar." The song begins with a biting quip: "My learning curve was so acute it formed a perfect circle / My whole wide world was virtual so I sank back in my shell." From there Ka-Spel utilizes a combination of dry, phone-like tones and half-dead, choking keyboards to spin a tale of slowly atrophying ideas and feelings. Martijn De Kleer's guitar work is most successfully worked into mix on this song; he draws a blues-like desolation out of his strings that emphasize the loneliness present in Ka-Spel's lyrics. The song reaches a climax as Ka-Spel muses over the safety of virtual reality: "I know that far away exists mysterious adventures / A life beyond / Uncensored where there's nothing guaranteed / It's not for me / Oh I'll live with it."
My only complaints about this outing revolve around a pair of songs that interrupt the slow descent I described earlier. While "A World with No Mirrors" and "My First Zonee" draw their lifeblood from the same topics found in all the other songs, the musical aesthetic on both are so different from everything else on the record that they seem almost entirely out of place. "A World with No Mirrors" is composed of acoustic guitar and flute and sounds pastoral despite its nocturnal and ambient ending. "My First Zonee" is, on the other hand, a jaunty piece that only emphasizes how difficult it is to use a saxophone on a rock record and not come away sounding cheesy. Were these two songs removed or replaced, the album might be exceedingly bleak and somber. Yet, I find myself wanting to skip past both in order to get to the meat of the record. "Faded Photograph" manages to lighten the mood without breaking the album's continuity and so both the aforementioned songs seem just a bit superfluous. That being said, both songs stand well on their own and are nowhere near distracting enough to ruin the record. I suppose I'm simply more endeared to Ka-Spel's darker creations, which is why Plutonium Blonde keeps me coming back. It is twisted, dark, and filled with a multitude of musical approaches that few (if any) other musicians have ever even thought of blending.
— Brainwashed.com – 12 October 2008
More reviews
---
Lyrics
With a star on my arm and a ring through my nose,
put my life in your hands and I'll lay in the road.
As the TVs drop and the tear gas flows,
and the angel of mercy's a sinister glow
To a moon that's a blot where I'm fighting to go,
and I'm stiff as a doe in your headlights.
We burn so bright, we side with the righteous,
a rose in a rifle, a bed for a tank,
and I thank you for laughing and firing a blank
when I stood right before you and wept,
as I sank to my knees… to my sorry, sorry knees.
High as a kite and there's so much to fight for,
so much to die for, so much to kill for
so much to hate, there's so much to break,
god damn, for god's sake! we're damned,
and I'm late…
So forgive me, asshole.
I'm high as a kite, there's so much to fight for,
so much to die for, so much to kill for,
so much to hate, there's so much to break,
god damn, for god's sake! we're damned,
and I'm late… for a very important date.
A rock can be a hard place when you're in between the nagging
of a restless sea, a sorry sky, a darkening horizon…
When the one voice you can hear is just your own,
innocently thrown back by a gale that's so damn angry
nothing sails, nothing dares— except my endless love for you.

Sing for me my siren, I am far away, but know that I can hear you.
Here it's calmer. Here it's clear— it's Christmas on the Moon…
But still it's just another rock,
wrapped up inside a fancy box, that's just like all the others.
Time to throw back all the covers… time to FLY!
Cast away the rock that weighs you down… time to fly.
I'll cast away the rock that weighs me down… time to fly.
Sometimes I catch an outline.
There are moments when I'm almost sure it's safe to hold my head up,
and look into your precious eyes in search of you.
Still it's just an outline.
Those sideways glances… I see you doubt me.
Our self-centered needs have left us floating when we should be holding hands.
A pair of hands. A share of hands. A comfort— no distortion.
Gazing down at my old shoes, there's nothing awkward.
I can move and still be seen, I can lie with you and keep it clean.
I'll slide in through the back door to the corner of your eye.
But we're sinking as we shiver in a world which has no mirrors,
where the glass is just a sliver, where the river's always dry.
Where 'time and tide' are just an outline… and always in retreat.
Calling you now on my first Zonee.
Milking the cow with my first Zonee.
Out on the trail, I'll spank the pony.
I'll conquer the world with my first Zonee.
Under the ocean, seeding the clouds you'll be with me.
Forgive me, there is no need to shout it
from the top of the mountain or down in the well.
I can text you, "I like you".
No scabby hands with my first Zonee.
No stubborn stains with my first Zonee.
No sleeping around my one and only.
I've never been lied to by my first Zonee.
When I'm lonely, when I'm sad
I go through my ringtones deleting all the dead ones.
There's no time for tears, there's no regret. (? last part of this line uncertain- listed here as in album booklet but it sounds different)
All I have to do is SEND.
I'm never alone with my first Zonee.
I found a faded photograph of you, clearing out this crowded room.
See me so proud, dressed up to the nines, sipping dandelion wine.
Did it seem the sun would never set?
We'd stay young, forever blessed in our Sunday Best.
But I'm Wednesday's child and I am cursed to stay locked inside your purse.
It's night and I'll come to you once more, I'll forget to use the door…
Did I startle you?
Oh no… not me.
For you see through me… it hurts.
What a wonderful world. Do you sometimes feel that it's yours? That you could cup your hands, scoop up all of that glory and drink it down, like an oyster? Your oyster. We can serve you your oyster on a platter, lined with pearls. Or perhaps you'd rather try to find it by yourself?
Uh oh… Just when you though you had everything under control, that mean old mud pie hits you between the eyes. And what do you know? it drips and makes a mess of the designer shirt you paid an arm and a leg for.
But what about the other arm, the other leg? Don't worry friend, we're still here, and we've made such advances.
Uh, oh… Quick! where's the stretcher? No, make that TWO stretchers. NURSE, the screens! You, out of the way! Don't worry friend, we have everything under control, and believe me, we've made such advances.
So now we come to that boring part. You are covered, aren't you?
No need for none, to think of a scheme for folks like you. I mean, do you need both of those kidneys? Let me tell you a story… I had a little dog, Freddy— yes, his name was Freddy— and that little guy, well, he lived for nearly eight years without a liver. Like a puppy, too, right up until the end of his days. That's a good heart you have there, I know someone who exchanged his heart for yours to take (? not sure about this), You could even make a little money. Don't worry friend, we're here! This doesn't have to cost you an arm or a leg, but we've made such advances.
Mailman, mailman, why the face? You are my deliverer.
Mailman, mailman, does it taste of baby snails and cut liver?
Mailman, mailman, you're my friend. You bring me those packages.
When the dog bites, I'll pretend to wrap you up in bandages.
Oh, mailman…
Mailman, mailman, don't be sad. I've got pills to calm you down.
Mailman, mailman, if it's bad, I'll make lots of funny sounds, like…
Mailman, mailman, mailman…
Do you read me loud and clear?
The sea sings sweetly in my ear.
Can toss this shell, and cast my fears away now.
A gesture and a private tear
shall keep my face, let no one near.
We served for you.
Will not veer from the path that's straight…
the path that brought me here.
My learning curve was so acute it formed a perfect circle.
My whole wide world was virtual, so I sank back in my shell.
It's 16 cubic feet and i shall keep you all outside.
I have this screen before me and I click. I watch paint dry…
It's such a waste. I watch paint dry…
I fall from grace. Oh me, oh my…
I rest my case. I watch paint dry…
Perhaps it's been a decade since I touched another person.
I was always so uncertain so I chose to stay alone.
And all the kids I never had… they're standing right before me.
I hope that they'll forgive me as I turn to face the wall.
It's such a waste. I watch paint dry…
I fall from grace. Oh me, oh my…
I watch paint dry.
I know that far away exists mysterious adventures.
A life beyond uncensored, where there's nothing guaranteed.
It's not for me. Oh, I'll live with it.
Don't have the time.
My schedule's full from noon 'til night.
It isn't great, but I'll get by…
I watch paint dry.
A little room (???) without a bed …surplus to requirements (???)
counting years I came in late, considering retirement.
I'm feeling pretty scared, you know I almost dyed my hair,
but I'm far too gone to care… oh baby, please, now, easy on the spray.
Now (???) and stroking feet, I kissed around the (???)
and cursed me from his lofty seat and walked this earth forever.
I'm feeling pretty tired since you tied me up with wires.
I concede to you Messiah, just go easy, easy on the spray.
(????)
It's a lousy lonely road and I know every little pebble.
Throw my arms high in the air and took my feet off both the pedals.
But I'm feeling sick inside, maybe even suicidal
Is there nowhere I can hide? oh baby, please go easy on the spray.
(????)
…uncomplicated.
Who amongst you has the right to sanction what is real and what is fake?
Who is so damned perfect who can claim there has not been some mistake?
Nothing high and mighty now, look upon the blighted ground.
Take a rock and throw it down, break our spirit, drag us down… down… down…
Imprisoned by these pounds of flesh, locked up inside these spiteful tiny minds.
And if we should die today, whomever could we trust to take the time?
To make a little monument that tries to make a little sense,
for what we did was never meant to fill up space inside this fence.
Flat on rooftops, taking aim, and picking off the midgets down below.
Feel that rush of glory, seize it now, that cruel wind will surely blow.
And all you were is covered up, and there shall be a deadly hush.
A matchstick planted in the dust. I need a little cheering up… up… up…
Up… up… up…!
An Arm & A Wasp
(instrumental)