THE LEGENDARY PINK DOTS
<< back to the Combined Discography
---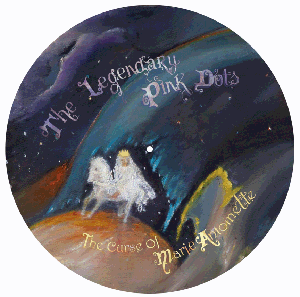 Release date and tracklist
September 13, 2013
Picture LP  Rustblade RBLLP001
October 16, 2013
MP3  self-released on Bandcamp
July, 2014
CD-r   self-released on TEKA / Bandcamp (alternate image)
Side A
The Curse of Marie Antoinette
Something's Burning
Hallucination 33
Side B
Catwalk
Ballerina on a Rice Paper Leaf
Ghost of a Summer to Come
---
Credits
Edward Ka-Spel- voice, keyboards
Phil Knight- keyboards, electronics
Erik Drost- guitars
Raymond Steeg- live sound engineer
---
Press Release
The Curse of Marie Antoinette is a concept album created exclusively for this picture disc release limited to 299 copies. It's unique atmosphere runs like a thread from the title track piano lullaby graced by Edwards melancholic voice to the repeating bassline and psychedelia of "Halluination 33″, arriving then at the transformations of Side B's lysergic tones and disturbing offerings like "Ballerina on a Rice Paper Leaf" and "Ghost of a Summer to Come"… 45 minutes of storytelling touching on reincarnation, other worldly dimensions, romance and fear to be enjoyed by candle light. A collector's jewel not to be missed by lovers of the cosmic music that The Legendary Pink Dots so aptly create. -Rustblade
---
Notes
A surprise release from the Dots in 2013 in the form of a vinyl picture disc on the estimable Rustblade label from Italy.  A mix of sad songs and sorrowful scapes that ends in the loneliest of places. -E. K-S.
CD-r: After many requests we're happy to present Marie Antoinette on cdr with a card cover and beautiful artwork by The Silverman. As always, lovingly made at home….  edition of 199
---
Lyrics 
Transcribed by Kris Nelson
The Curse of Marie-Antoinette
The curse of Marie-Antoinette insured we'd suffer yet discover that death was not an end but a conspiracy, a cover-up, a myth that one day all the pain would go away.   Please go away!  And every festering laceration, every open wound is a reminder of a night that's yet to come, a cage beneath the setting sun.  A rusted lock, a gentle breeze. The jailer teasing, same routine repeating.  Keeps repeating!  And I too regret my words Marie-Antoinette, and I'd wish we'd never met,  Marie-Antoinette – years ago…
Something's Burning
Butterfly lie spinning on a whale.  Father, please don't break it, just sit still.  Take in all the colours, the kaleidoscope, feel the revolution stirring, rising. 
(We will)
Never could take these things lying down.  Never could take these things lying down.  Neither should you.
(We will)
Hallucination 33 (instrumental)
Catwalk
Welcome to the catwalk.  The tightrope. The view.  But keep your arms stretched wide friend, because that big wide world below wants to consume you – whole.  It wants to add colour to a canvas that slowly turns from blue to grey to red. 
Red.  Red. Red.
It' a red planet.  It's a hot red planet – and it needs… to feed. 
Ballerina on a Rice Paper Leaf (soundscape)
Ghost of a Summer to Come
No need to wipe that lens my friend, the small distortion is there.  It's not a trick of the light.  There is no malfunction.  You see, it's Wednesday – and she walks on Wednesdays.  No, that's not the wind your hear, it's her tragic moaning as she carries her head as I carry this tray of soft drinks, packets of crisps, ham sandwiches.  It's Wednesday, so it's special offer day.  "So, can I help you sir?"
(the crowd:  "She's over there.  No, over there.  Over there.  Over there").
Damn fools!  She's right here before me and her lovely head sits on perfect shoulders. Her hair lifts and drifts in the steady breeze as she offers me her hand, which I take, hardly daring to look into her eyes.  There's so very,  very much I'd like to ask her, but she shakes her head and whispers: "This is the time for mischief."
We slide through the crowd.  Damn fools.  They don't seem to even notice us.  But a little girl laughs as my white lady slaps the tray and scatters the soft drinks, the packets of crisps, the ham sandwiches.  ("Over there").  "This is a time for mischief."
To the river bank: "Is this where you drowned, white lady?"  The riverbank.  There is no shyness as you step out of your dress. "Is this your wedding dress white lady?"  – but the question dissolves like snowflakes on freshly scorched earth.  "This is a time for mischief." ("Over there").     And I make no protest as she undresses me right there on the riverbank; and I feel no shame as we make love right there, in front of the crowd.  ("Over there.  Over there"). And we're loud; we revel in this mischief.  We're provoking you.  Outrageous!  Aren't we being outrageous enough? 
Damn fools!  ("Over there"). Can't you even see us here? ("Over there").  And, what's next? Next, it's time for her to leave: "But it's still Wednesday white lady, and Wednesday is the day when you walk" – yet still she fades.  "Can I come with you?"  Still she fades.  And again, I find myself alone in the crowd, pointing ("Over there!  Over there, over there").
I need a coffee and I address the man with the tray, but he walks right through me. ("Over there!  Over there!")  "Look, I'm right here dammit!"
("Over there!  Over there"). "Damn fools! What's wrong with you? Ain't my money good enough for you?"  ("Over there, over there"). 
(unintelligible spectral voice).   "No.  I know my place." 
"Here I come". "Here I come!"  "Here I come!"