EDWARD KA-SPEL
<< back to the Combined Discography
---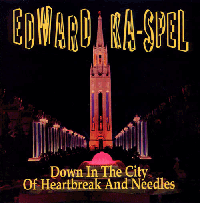 Release date and tracklist
1995
US CD Soleilmoon SOL29
Mirror Soul [MP3]
Avengelist [MP3]
God In A Cupboard [MP3]
Blowing Bubbles (Part 2) [MP3]
Six Cats On A Dead Man's Chest [MP3]
"Joey" – The Video [MP3]
The Char Char [MP3]
Intermezzo [MP3]
Hotel Blanc [MP3]
Tikko [MP3]
Volicie [MP3]
Suicide Pact [MP3]
Lisa's Funeral [MP3]
The Glass Moved By Itself…
….And Smashed Into A Million Pieces
Lilith's Daughter [MP3]
Eye Contact [MP3]
And The Lord Said "Rise" [MP3]
Requiem [MP3]
---
Credits
Edward Ka-Spel – voice, keyboards, electronics, percussion, glox
Hero Wouters – keyboards, tapes, sephthesmesc
Neel Holst – saxophones
Mathieu Keizer – marimba
Patrick White – guitars
Patrick Q. Paganini – violin, voices
Lady Sunshine – lady vox
The Angels – Where are you now that we need you?
---
 Notes
Tracks 1 to 9 represent the album Eyes! China Doll which was recorded and released in 1985. Thanks to Thierry for locating the original master tape, and to Peter for transferring it to DAT.
Tracks 10, 11, 18 are from Perhaps We'll Only See A Thin Blue Line (1989).
Tracks 12 to 14, 16, 17 and 19 are from Laugh China Doll (1985) and were mastered from clean copies of the original vinyl record. This was necessary because the master tape was destroyed.
Track 15 was released on a cassette compilation entitled "Wuuurgh," manufactured in a limited edition of 28,000,000 on the Planet EK. None were exported because the cover was deemed to be obscene.
Sing While You May ——– Klaubsteht Naveeda Promnezh