EDWARD KA-SPEL AND ELKE
<< back to the Combined Discography
---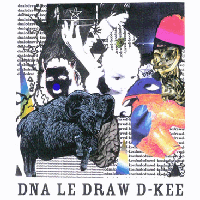 Release date and tracklist
1995
NL LP Korm Plastics KP5295
1999
US CD Soleilmoon SOL56 (different cover)
Decay
DNA
28 May 2013
NL Remastered MP3 self-released on Bandcamp
Decay
DNA
Delayed
A Vegetarian Bavarian in Exile – Ja Soa Schmarrn
---
Credits
El Kabong – keyboards, electronics
Edward Ka-Spel – keyboards, musical box
Ryan Moore – percussion
Calyxx – small dictaphone voice
Various ghosts – various ghostly activities
---
Notes
One-off project described as an "ambient experimental weird-out" by Edward and Elke (try re-arranging the letters!) with friends.
The LP is a limited edition of 500 numbered copies with handmade sleeves and photocopied insert, part of the "Korm Plastics Ambient Series".
***
"This CD is a reissue of an extremely limited vinyl release which appeared a few years ago on Holland's Korm plastics label. The project was instigated by Korm label boss Frans de Waard, who phoned the Legendary Pink dots household with the brief request, "Why don't you make something for our ambient series?"
It was a challenge, especially as the term "ambient" had become synonymous with any floating landscape which oozed out of a set of speakers at the time. The estimable Brian Eno was of course the man who first coined the term "ambient music" years before to describe records which were meant to be as ignorable as they were enjoyable. We decided to go for the enjoyable angle, as the ignorable option had been overused by many.
A session was organized with myself (Edward Ka-Spel), my then-wife, Elke; our 2 year old son, Calyxx and fellow Pink Dot Ryan Moore. The session lasted 3 days with breaks for eating, sleeping and other functions necessary to ongoing human existence. All of this was at last edited and mixed by myself, and the name "DNA Le Draw D-Kee" was pinned on it because it's an anagram of Edward and Elke." EDWARD KA-SPEL 1999
***
from Bandcamp:
DNA Le Draw D-Kee (an anagram of Edward and Elke) was first released on vinyl by old friend Frans De Waard as part of his Korm Plastics' Ambient Series. In fact it's far from being an ambient record with many explosive rhythmic sections (Ryan Moore outstanding on percussion) and noisy interludes that could have been dropped from a plane out of Osaka.
The vinyl was a small edition of just 300 copies, and a cd reissue (on Soleilmoon) was welcome around a decade later as it's a work that's often overlooked but definitely has quality.
This remaster adds a bonus cut from an aborted second album .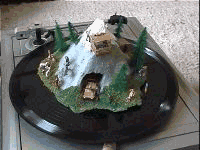 The other bonus track , "Ja soa Schmarrn" is a story in itself. Released under the moniker of "A Vegetarian Bavarian in Exile", rarely has the vinyl format been pushed to such an extreme.  There are just 100 copies in existence of this 12″ single with the entire centre part melted and shaped into a mountain with grass and sheep and the spirit of the Heimat represented so lovingly. Each mountain is different. Countless copies were scrapped where the melting process backfired. To finish it off, it was released in a cakebox with Elke Skeltzer (aka The Vegetarian Bavarian), baby Calyxx and Rund um den Watzmann label manager Rene Heid and his partner Kim in full Bayerische regalia on the front.
Elke and EK made the music together, collaged from scratchy Bavarian records found in flea markets, but to acquire the glorious cakebox, it now means a raid on an art gallery.
Big thanks to Rene, Frans and Charles.
---
Reviews
DNA LE DRAW D KEE (anagram of Elke and Edward Ka-Spel) is a special "ambient" project that features Edward Ka-Spel and Ryan Moore of the Legendary Pink Dots, Edward's wife at the time Elke and then 2 year old son Calyxx. This disc is a re-issue of a previously limited edition (500) vinyl only release from 1995 on Holland's Korm Plastic label. The cd contains two lengthy, flowing, instrumental sound collage pieces: "Decay" and "DNA". "Decay" uses electronic drones, hums, glitches, music box tones, samples of voices and bird calls, synth sounds and some somewhat tribal percussion playing. I especially like the 4 to 5 minute music box section … very beautiful and relaxing. The track ends with a gradually building wall of percussive tappings and bouncy synth notes. "DNA" begins with a minute and a half of soft piano and stereo panned static waves that I wish would go on forever. The percussion-less track evolves with synth waves and more music box tones, keyboard pads, static, baby cries and bizarre synth sounds such as warning signal-like beeps. The final four minutes or so build with bizarre, plucked guitar string type sounds and sweeping synth chords. Both tracks are varied and paced well, changing and moving often enough to avoid becoming boring. I hear bits similar to early LPD, solo Ka-Spel and Mimir and bits reminiscent of Neu! (especially the beginning of "DNA"), Eno, and early Pink Floyd. If you like the more atmospheric side of the Pink Dots and Ka-Spel's work, you're going to love this. The artwork for the inserts is a gorgeous swirled collage of psychedelic pastel colors, it's too bad Soleilmoon didn't make a poster for this one. Khalamalezh Vidas! – Mark Weddle
***
Originally released in 1996 on Korm Plastics and long deleted, Dna Le Draw D Kee is an attempt by various members of The Legendary Pink Dots (more specifically Edward Ka-Spel and Elke Skelter – check for anagrammatics) to produce ambient music which went beyond mere background and into the realms of enjoyability. The CD re-release's vinyl heritage results in two side-long pieces of about twenty minutes each, and the first, "Decay", is the more introspective. Bearing a passing relationship to some of the pieces on the (originally) ultra-limited Four Days LPD release as well as the individual band members' own atmospherica, "Decay" trundles and pulses its way through bass cycles and something electronic resembling a steam-press ticking over in a secluded corner, while the Various Ghosts of the credits murmur slight, sinister nothings to themselves. Little chimes, musical boxes and more zoological samples make drifting segues with the occasional urgent moment of sussurus and quietly untoward radio noise, while the emergent percussion takes everything off into more frenetic (though still reclined) rhythmic hypnosis. "DNA" has an appropriately spirally feel, with the keyboards Mellotroning out into those sliding orchestral or glutinously recombinantly liquid synthesizer sounds which signify Ambient taken into the microscopic layers of the dust in the carpet, or whatever sounds fibrous static might produce alongside the dolphinate magnifications of the small-talk of mites, listening in to the sqeaks of young Calyxx. Dna Le Draw D Kee finished on a flurry of reverb, and vanishes off into its own little cosmic wormhole, dreaming softly but busily. -Antron S. Meister-, Freq E-Zine